Package 1
8 hour (40-60 miles)
Package 2
12 hour (60-100 miles)
Package 3
15 hour (100-140 miles)
Package 4
36hr Pulley Ridge (150+ miles offshore)
Package 5
12 hour Tuna & other Pelagic's (Orange Beach, AL)
Package 6
12hr Daytime Sword (Orange Beach, AL)
Welcome aboard
The Big Naasty
I am Captain Rob Davenport, 48 years old and have been fishing offshore my entire life. It is without a doubt that fishing is my passion. The only thing better than catching fish myself is watching everyone else catch fish aboard the Big Naasty. I want to personally invite you on the trip of a lifetime. Whether you have never been on a boat or your a seasoned fishermen, this is the fishing charter you need to be on. Step aboard our brand new 42 foot Freeman boat and experience fishing the blue waters of Gulf of Mexico like never before.
Bring your friends for an unforgettable fishing trip, make memories as family, or thank your clients with a corporate trip they will be talking about for years to come. My crew and I are here for you. This is not our job, it is our passion.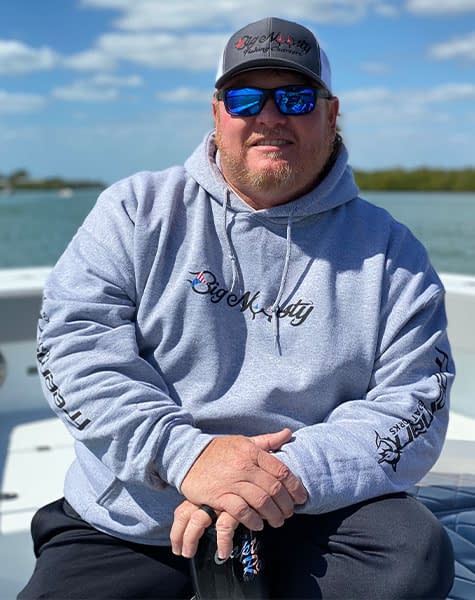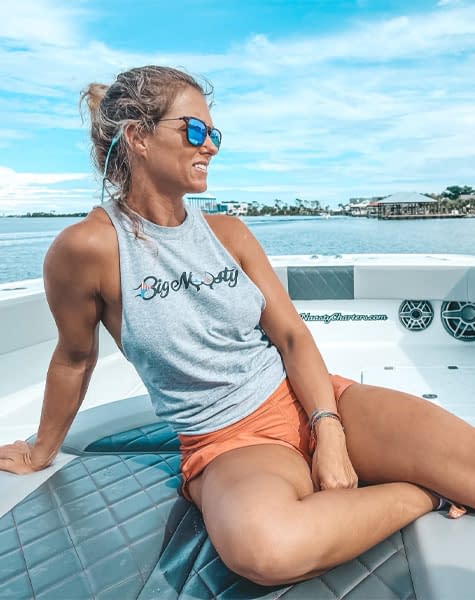 I am Captain Crystal Fuston. I was introduced to saltwater fishing by my dad as a young child. From the first time I had a line in the water, it was all I ever wanted to do. 
I found my passion when I started fishing offshore charters with my best friend Capt. Rob Davenport of the Big Naasty. Seeing the smile on someone's face when they catch a fish of a lifetime is so rewarding. To me fishing is so much more than just catching fish, it is about spending quality time with family and friends while making memories that will last a lifetime.
I'm proud to be part of the Big Naasty family, where we take pride in making each trip an unforgettable experience. It is our passion.
When you book a charter with us, you will be stepping aboard The Big Naasty, an amazing 2021 Freeman Boats, 42LR.
This custom-built boat was made with you in mind. Quad Mercury 450 racing engines get you out further and faster into the gulf than any other charters. This means more time fishing and less time riding on a boring, slow head boat. Our comfortable catamaran boat is hands down one of the best vessels money can buy for private charters.
Book one of our charter packages or contact us for a custom charter anywhere on Florida's west coast and Louisiana's Gulf waters.
Join us in Florida's most sought after Mexican Gulf fishing grounds.
Fish the oil rigs, drill-ships and shrimp boats off Alabama. (March-April)
Be ready for a high-speed fight against this highly sought-after game fish. Also an excellent fare for the table.
Be ready for an explosive bite and hard runs once hooked. Blackfin tuna are excellent in a variety of dishes.
One of the ocean's fastest, strongest predators. These highly sought-after sport fish make for an excellent trophy catch.
Trusted companies we do business with.
"I have had the honor to fish and mate for Capt. Rob. Hands down the best offshore fisherman I know. Love you brother!!!"
This is the heading
Lorem ipsum dolor sit amet consectetur adipiscing elit dolor